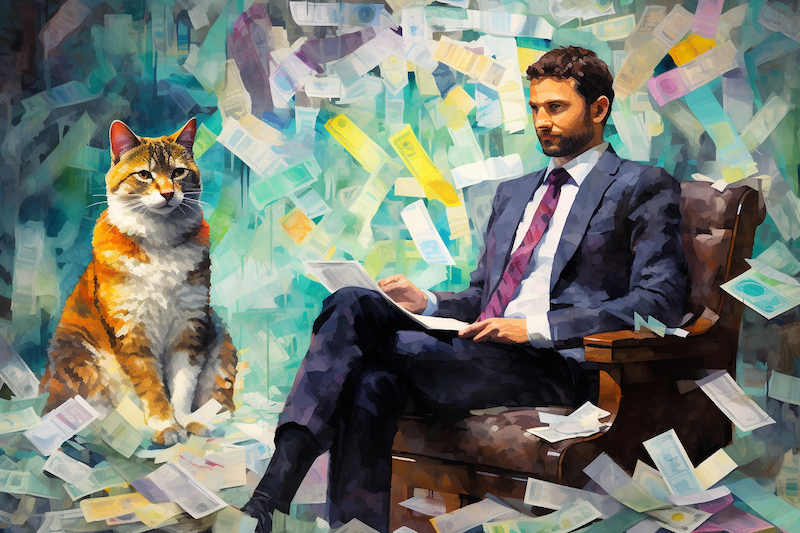 In this article, we will explore the key ways the treasurer can benefit from their board adopting Our Cat Herder to streamline board administration.
Simplified Meeting Preparation
One of the most time-consuming aspects of the treasurer role is preparing for board and committee meetings. This includes reviewing financial reports and statements, compiling relevant materials for the board packet, and developing appropriate commentary and recommendations on financial matters for inclusion in the agenda.
With Our Cat Herder, treasurers can greatly simplify and expedite meeting preparation in several ways:
Streamlined Agenda Building
The agenda builder functionality allows treasurers to rapidly add financial items for upcoming meeting agendas.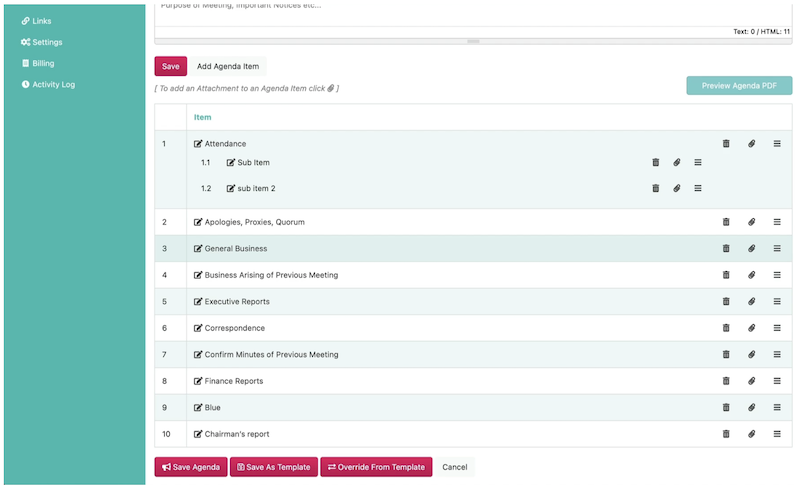 Rather than developing agendas from scratch in Word or Excel, agenda items can be quickly added from user-friendly templates that include all necessary financial items.
The Our Cat Herder agenda builder and template engine allow you to rapidly pre-populates standard sections such as:
Financial update
Budget approvals
Audit findings
and more..
saving treasurers time.
Our Cat Herder's agenda builder saves treasurers time by allowing the use of templates to pre-populating standard items for each meeting agenda.
Automated Board Packet Assembly
Once the agenda is set, the portal allows rapid assembly and instant distribution of professional board packets. The treasurer can upload relevant financial statements, reports, memos, and other materials to the portal. Then with just a click, a complete board packet is sent to all board members. This eliminates the hassle of manually assembling packets via email or hard copies.
With just one click, Our Cat Herder automates distribution of complete board packets.
Meeting Background Paper Builder
Treasurers can also easily generate written commentary for the board using the integrated background paper builder. This allows quick creation of papers explaining:
Financial reports
Investment results
Audit findings
Budget recommendations
Other financial subjects
These memos are incorporated into the board packets for rapid distribution.
Enhanced Communication & Collaboration
Outside of board meetings, treasurers frequently need to communicate with board members, auditors, investment advisors, committee members, and others regarding financial matters. Our Cat Herder centralises this communication to improve collaboration.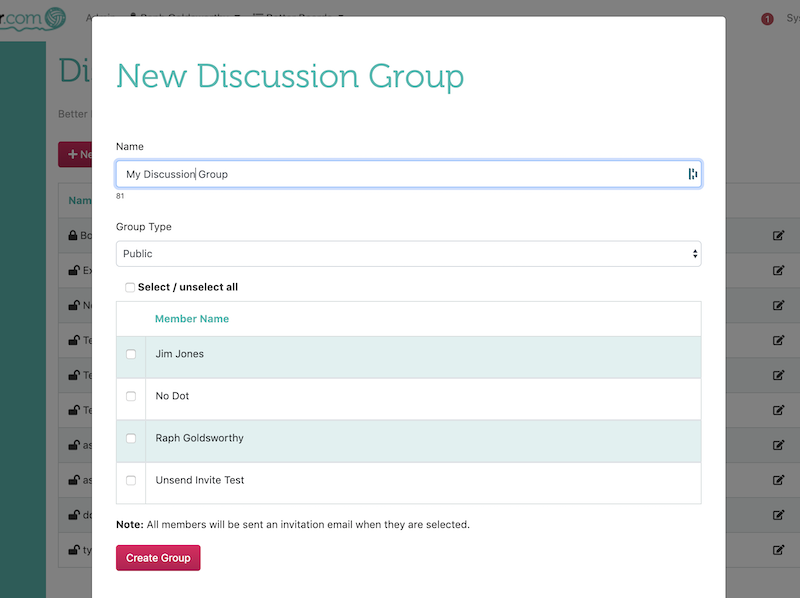 Discussion Boards
Discussion boards allow treasurers to easily confer with relevant parties on financial topics. Rather than long email threads, issues can be discussed transparently via the portal with a clear record of the conversation.
Discussion boards eliminate messy email chains and enable transparent collaboration on financial matters.
Documents Notifications
When providing documents for review, treasurers can automatically notify others about the file being avaliable in the portal. This allows board members and others to rapidly review:
Budgets
Financial statements
Policies
Etc.
streamlining collaboration.
Decision Making
The built-in decision maker functionality enables easy votes on financial decisions between meetings. Treasurers can quickly conduct "flying minute" votes on pressing matters without delay.
Institutional Knowledge Retention
When treasurers transition out of their role, critical institutional knowledge can be lost. Our Cat Herder safeguards against this by centralising all current and historical board materials.
Document Library
The portal provides secure storage of all important financial documents, past budgets, statements, policies, audit reports, etc. This data persists through leadership changes.
Discussion Archives
Conversations around major financial decisions are archived via the discussion boards. This retains the rationale behind budgets, investments, audits, etc. for future boards.
Note-Taking
Treasurers can take private or shared notes on board packs that contain financial reports, statements, policies, etc. These notes are saved to inform future analysis and decisions.
Enhanced Productivity
By streamlining the treasurer's administrative workload, Our Cat Herder enables treasurers to focus their time on high-value strategic activities.
Eliminates Busywork
Manual processes like assembling board packs are handled automatically by the portal. This eliminates tedious low-value tasks.
Meetings Focused on Strategy
With the portal handling administrative work, treasurers gain more time to focus on substantive boardroom discussions rather than report approval. Meetings can focus on strategy.
More Time for Analysis
Streamlining frequent tasks like document distribution or preparing for board meetings gives treasurers more bandwidth for high-level financial analysis such as:
Forecasting
Benchmarking
Modelling
Proactive Risk Management
Treasurers also gain time to undertake proactive analyses and planning around financial risks, audits, investments, etc. rather than just reacting to issues.
Convenient Access
Our Cat Herder allows treasurers to access the financial information they need anywhere, anytime.
24/7 Availability
Unlike siloed documents on a PC or messy email chains, the portal provides ubiquitous access to your boards data from any web-enabled device.
The portal enables secure access to board data 24/7 from any device.
Multi-Device Capability
In addition to desktop/laptop access, the responsive interface allows access via smartphones and tablets. Treasurers can stay connected while traveling or out of the office.
Single Source of Truth
There is no need to hunt across multiple platforms to find documents. The portal serves as the single source of truth for all board materials.
Enhanced Board Collaboration
Utilising Our Cat Herder fosters better collaboration between the treasurer and the broader board of directors.
Transparency & Accessibility
All directors have full visibility into financial reports, statements, budgets, audits, investments, and other items. This facilitates collective oversight.
Aligned Expectations
Clearly communicating financial policies, plans, and performance through the portal ensures the full board shares context and understanding. This aligns perspectives.
Shared Knowledge Base
Storing all historical financial materials provides all directors with access to background information to inform discussions and decisions.
Facilitates Input
Features like discussions and meeting commenting allow board members feedback before meeting financial plans like budgets or audits. This fosters participation.
Final Thoughts
In summary, implementing Our Cat Herder offers treasurers and finance-focused board members a wide array of benefits that will make their lives easier while also strengthening governance and financial oversight. By streamlining administration, automating reporting, centralising documentation, retaining institutional knowledge, and facilitating collaboration, this purpose-built portal enables treasurers to thrive in their critical governance role. The treasurer plays an indispensable part in the health and success of every not-for-profit. Our Cat Herder delivers the right tools to empower treasurers to bring maximum value to their organisation.
Streamline your NFP's Governance by starting your 45-day free trial today
Not a Treasurer? Discover how Our Cat Herder's board portal can help you and your organisation.
Resources to Improve Your NFP's Governance
Looking for more resources to streamline your school's governance and board administration? Check out some of our free resources.
Effective Board Packs: The Complete Guide
Company Secretary Playbook: How to Reduce the Size of Board Packs
The Optimal Timeline for Board Pack Delivery